Fruits and vegetables are important for a well-balanced and healthy diet. They contain key vitamins and minerals that your body needs to be able to function properly.
According to the CDC, only 1 out of 10 adults get enough fruits and vegetables every day. That means that most people are missing out on the essential nutrients and fiber that these foods can provide. The CDC also stated that 7 out of the top 10 leading causes of death in United States are from chronic diseases and by consuming a diet that has higher amounts of fruits and vegetables can reduce the risk of developing these diseases. Some of those diseases include heart disease, type 2 diabetes, some cancers and obesity.
Each color of a fruit or vegetable tells a lot about what that produce item contains. All fruits and vegetables contain many nutrients, but the color gives a hint of the key nutrients. Make sure to try and eat as many different colors as possible to ensure you are getting enough of all of the nutrients that your body needs. Below is a quick summary of what each color means for fruits and vegetables.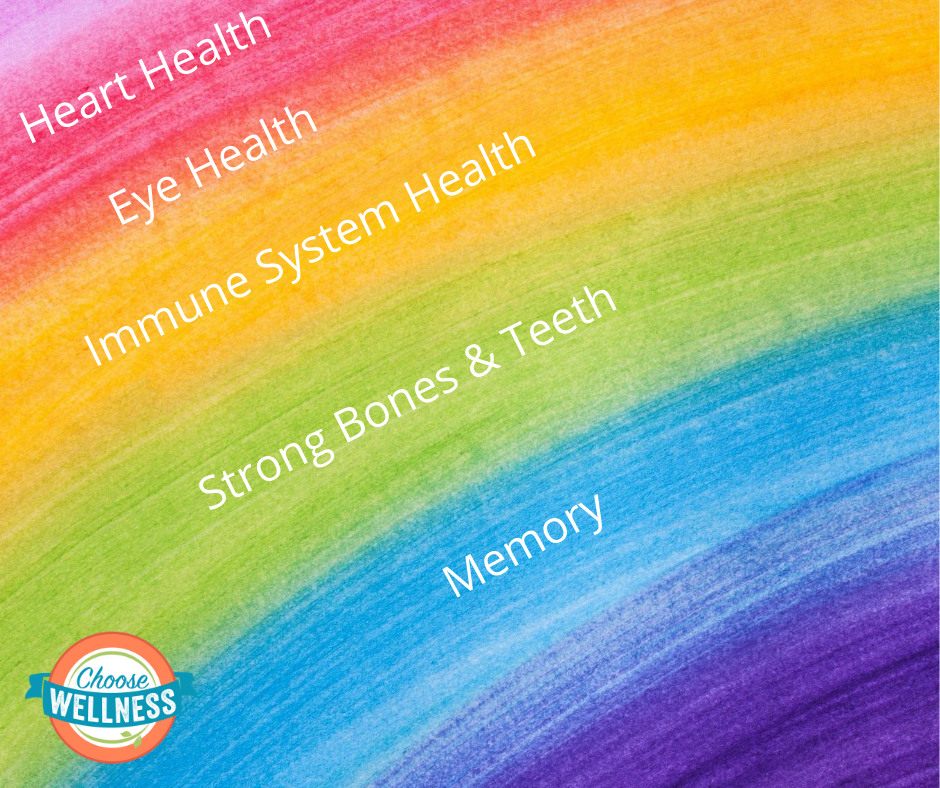 Red – contains Vitamins A & C, manganese and antioxidants.
Aides in heart health.
Foods: tomatoes, red peppers, beets, red apples, red potatoes, grapefruit, raspberries, strawberries, watermelon
Orange – contains Vitamins C, A & B6, potassium, folate and antioxidants.
Aides in eye health.
Foods: carrots, orange peppers, sweet potatoes, pumpkin, oranges, peaches
Yellow – contains Vitamins C, A & B6, potassium, folate and antioxidants.
Aides the immune system health.
Foods: yellow peppers, squash, bananas, cantaloupe, pineapple
Green – Contains Vitamin K, B vitamins, folate, potassium and antioxidants. Aides in strong bones and teeth.
Foods: broccoli, cabbage, Brussels sprouts, cucumbers, green peppers, dark leafy greens, peas, green beans, zucchini, avocados, kiwi, green apples, pears
Blue & Purple – Contains B vitamins and antioxidants.
Aides in memory.
Foods: eggplant, red onions, purple cabbage, purple potatoes, blueberries, blackberries, plums
White – Contains Vitamins C & K, folate, potassium and antioxidants.
Aides in immune system health, and healthy eye, skin, bones.
Foods: cauliflower, garlic, jicama, mushrooms, onions, parsnips, turnips, potatoes, rutabagas