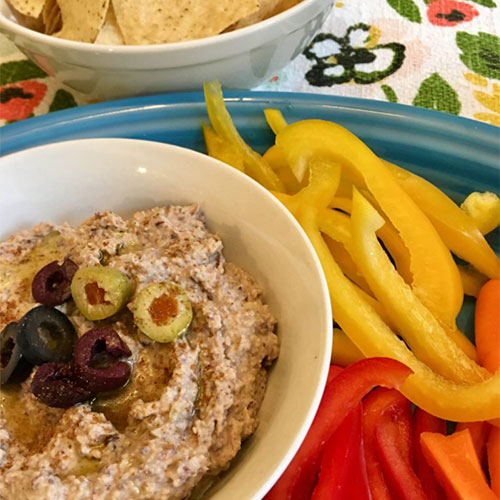 1 can Clearly Organic Garbanzo Beans, drained
1/4 cup tahini
3 Tablespoons lemon juice
1 garlic clove, minced
1 Tablespoon Clearly Organic Olive Oil
1/2 cup kalamata olives, pitted
3/4 cup green olives with pimento
1/8 teaspoon Clearly Organic Paprika
1 Tablespoon Clearly Organic Olive Oil
In a food processor or blender add garbanzo beans, tahini, lemon juice, garlic and 1 tablespoon Olive Oil. Pulse blend the contents until smooth. Stop to scrape sides as needed. Add kalamata and green olives. Pulse blend again until smooth. Scoop contents into a serving bowl. Top with paprika and olive oil. Add additional sliced olives if desired. The mixture can be stored in the refrigerator for up to a week if covered or in an airtight container.
Olive hummus goes great with seasonal sliced vegetables and Clearly Organic corn chips.