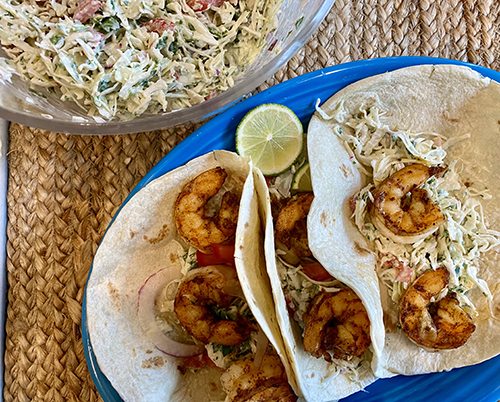 INGREDIENTS
1 lb Raw Large Shrimp, thawed
2 Tablespoons Clearly Organic Taco Seasoning
2 cloves garlic, minced
1 Tablespoon Clearly Organic Olive Oil
8 small tortillas, flour or corn
Lime wedges, if desired
For the Cilantro Lime Slaw:
3 cups green cabbage, shredded
1 small tomato, diced
2 Tablespoons red onion, finely chopped
1/4 cup Clearly Organic Olive Oil
1/4 cup water
1/4 cup green onion, chopped
1/2 cup cilantro leaves
1 clove garlic, minced
1/2 cup sour cream
Juice and zest from 1 lime
DIRECTIONS
Remove any tails or shells from the thawed shrimp.  Pat shrimp dry with a cloth or paper towel. In a bowl add shrimp, taco seasoning, minced garlic and olive oil. Stir and let marinate for 30 minutes while you prepare the slaw.
In a bowl add shredded green cabbage, tomato and red onion. Set aside.
In a food processor or blender add olive oil, water, green onion, cilantro leaves, minced garlic, sour cream, lime juice and zest. Pulse and purée until contents are smooth.
Pour desired amount over cabbage mixture saving a little for toppings on each taco. Toss slaw until contents are evenly distributed and set aside.
To cook shrimp add 1 Tablespoon Cleary Organic Olive Oil to a sauté pan then heat pan to medium high heat. Place seasoned shrimp in the pan and cook shrimp 3 to 4 minutes on each side.
Then remove from heat so you don't over cook shrimp.
In each tortilla add slaw, 2 to 3 shrimp and drizzle cilantro lime sauce on top. Serve immediately.