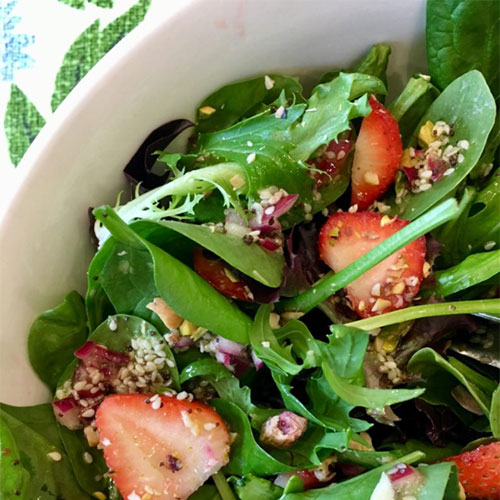 Choose Strawberries for vitamin C, potassium, folic acid and fiber.
Salad:
1 pound fresh strawberries, sliced
2 cups fresh baby spinach leaves
2 cups spring mix greens
1/3 cup Clearly Organic Mixed Nuts, chopped
Dressing:
1/3 cup Clearly Organic Olive Oil
2 Tablespoons Clearly Organic Sugar
3 Tablespoons white vinegar
2 Tablespoons Clearly Organic Sesame Seeds
1 Tablespoon poppy seeds
2 Tablespoons onion, chopped
1/4 teaspoon Clearly Organic Paprika
1/4 teaspoon Worcestershire sauce
In a large bowl combine mixed greens, spinach, and berries.
In a jar with a lid add olive oil, sugar, vinegar, sesame seeds, poppy seeds, chopped onion, paprika and Worcestershire sauce. Secure lid to the jar and shake dressing until contents are evenly distributed. Just before serving top salad with the desired amount of dressing.