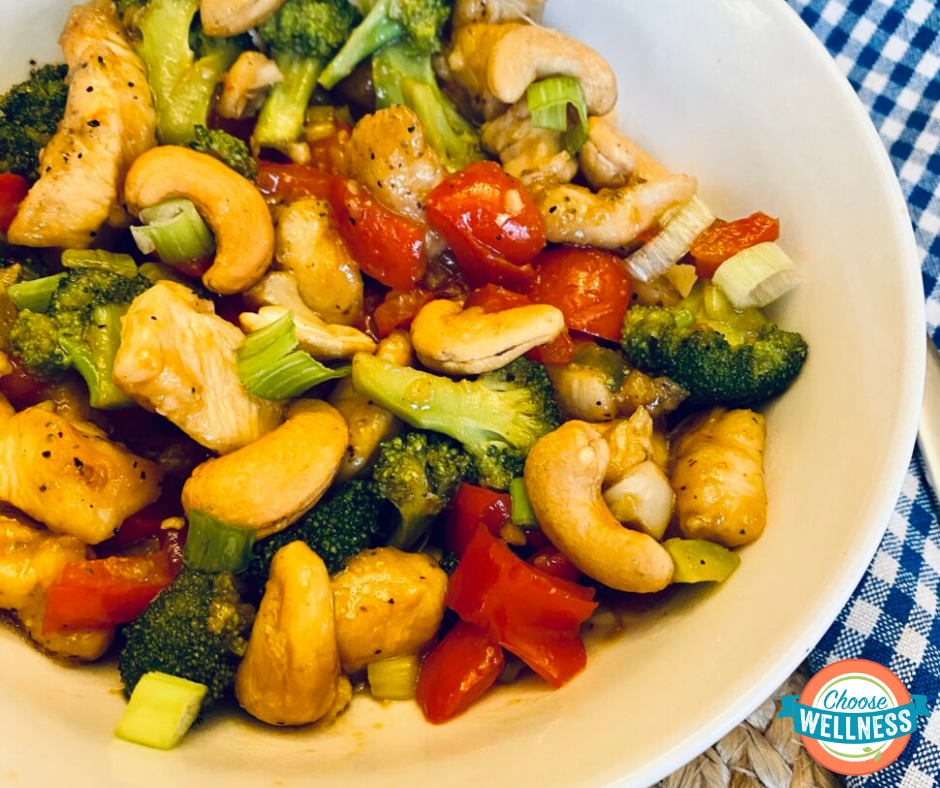 INGREDIENTS:
1 lb boneless skinless chicken, diced
1/2 teaspoon salt
1/2 teaspoon Clearly Organic Ground Pepper
2 Tablespoons corn starch
3 Tablespoons Clearly Organic Olive Oil
2 cups broccoli florets
1 red bell pepper, diced
2 cloves garlic, crushed
1/2 cup Clearly Organic Cashews
1/2 cup green onions, sliced for garnish (optional)
Sauce:
3 Tablespoons low sodium soy sauce
2 Tablespoons Clearly Organic Honey
1 Tablespoon rice vinegar
1/2 teaspoon Clearly Organic Ground Ginger
DIRECTIONS:
In a bowl add chicken, salt, pepper, and corn starch. Toss to coat evenly. In a large skillet add olive oil and chicken then cook for 5 minutes over medium heat. Flip and stir chicken so all sides cook evenly. When chicken is about 50% cooked add broccoli, bell pepper, and garlic. Stir to combine and cook for an additional 10 minutes or until vegetables are tender and chicken is cooked through. While vegetables and chicken are cooking add all the ingredients for the sauce to a jar with a lid. Secure the lid on the sauce jar and shake vigorously. Add the sauce and cashews to the skillet then stir to combine. Allow ingredients to simmer for 3 minutes. Sprinkle green onions on top then serve immediately and enjoy!  
Sponsored by Clearly Brand